Leave your boring life behind you and come on a quest for the Holy Grail. Follow Sir Augustus on his journey of discovery and on his adventures with the Naked Rambler. See how he found peace and happiness in the unlikeliest of places and how you can too. All will be revealed (literally).
Mythical, musical and comical - and that's just Augustus.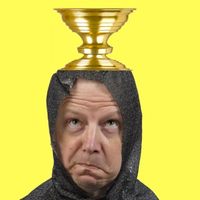 The Holy Grail, that mystical object that brings peace and happiness to all who find it. What is it? Where is it? What's in it? Augustus tries to answer the Big Question: How can a person be happy in a world that is so cruel. From the Garden of Eden to a police cell in Redditch; via underpants and octopuses; using songs, stories, verses and jokes; we follow Augustus on his journey of discovery to the answer, and perhaps, the Holy Grail itself.
Adults only.

No underpants were harmed in the making of this show.

There are no scheduled performances of this at the moment, but if you want to book one it can be arranged at a very reasonable price. Please contact me via the contact page

For news and reviews: Holy Grail Reviews and News